First Team & Team Kids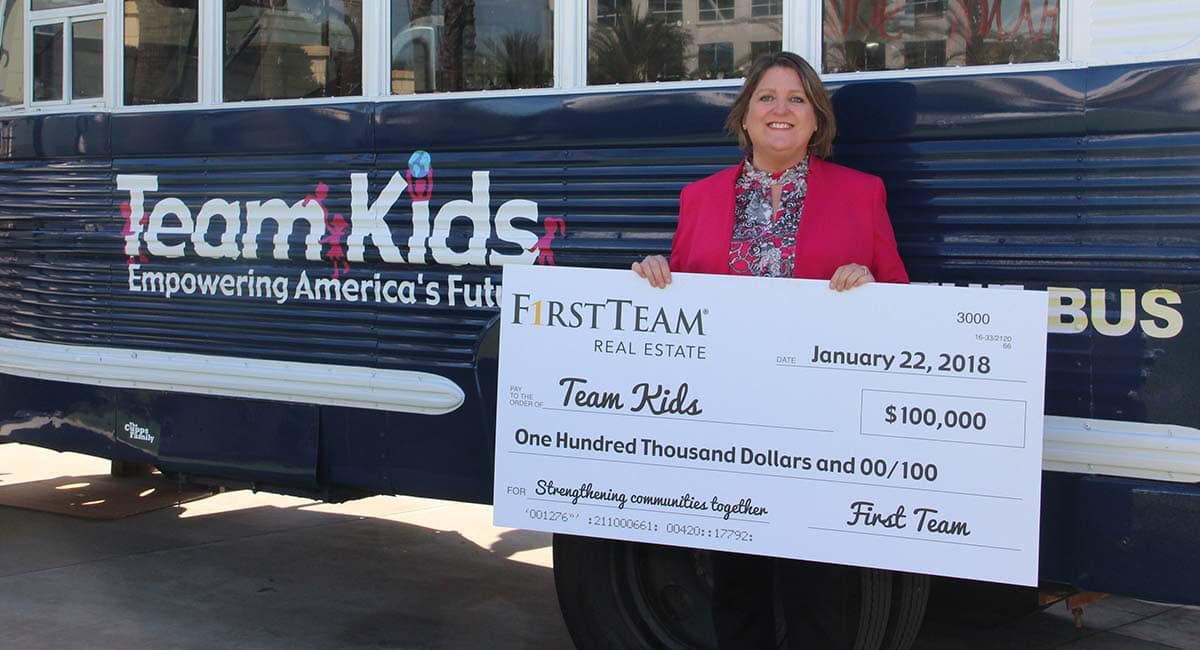 We share more than just 50% of our name with Team Kids, we share a vision for strengthening communities through service and compassion. As Team Kids Ambassadors, we're leading efforts to serve in our communities and fundraise for Team Kids.
Through our partnership with Team Kids —called the Team Kids Superhero Program—real estate agents serve as mentors to children in their communities, guiding them through various challenges that allow them to make a difference and earn recognition for it.
"Through the Superhero program, kids will be presented with challenges to complete, such as bringing blankets to an animal shelter or writing a thank you note to someone in the military," Hudash explained. "Once they complete these challenges, the real estate agents will present them with certificates thanking them for their contributions and for helping to make their own community a better place."
The Superhero Program, and our affiliation with Team Kids, is part of our organization's overarching mission to make a difference in the communities we call home.
Testimonials
" I met Liz during an open house. I was having issues with a current agent and explained what I was looking for. Within 2 weeks she was able to find me a home that fit all my needs. She did the research, previewed the houses for me to weed out the ones that didn't fit my needs, and negotiated with the sellers for our terms. I then recommended her to my parents to sell their home and she again amazed me. She was able to find solid buyers whom really loved the home and negotiated expertly to get my parents the best price for their home. She was always professional, patient and honest with us which was appreciated. "
- Kim Peters
" Liz is 5 stars. I had my listing in Orange Park Acres for sale for three years. As soon as Liz took over she told me what to fix to sell. I did just that and sold... She decorated and planted. She added her own things to show the house, she is amazing. I am so relieved that my house sold! Sandy Strasbaugh-Klein "
- Sandystrsbaughklein
" We were in dire need to move from our existing home and were even upside down making the transaction even more difficult. Liz not only assisted with the purchase of our new home but also made the sale of our existing home happen despite the equity being negative. Her efforts and willingness to go the extra mile made all the difference. "
- Anthony L.
" I've bought and sold many homes over the years; Liz is 100% the most helpful listing real estate professional I have ever dealt with. My listing seemed to be her top priority; she developed a highly professional marketing campaign, kept me informed of market and competitive trends, followed every lead and consistently kept me informed. Liz personally attended nearly every showing, thereby ensuring each buyer knew the unique features of my home. She personally and regularly held the house open. I cannot give her a greater recommendation.......I do give her a big thank you!! "
- Linda Waller
" We chose Liz because she's a professional in her field. She responds immediately, knows the area very well and she works very hard. She did everything to market our property, used her own $$$, timed it perfectly and never complained. You'll love her- she's kind, considerate and humble. "
- Danielle G.
" Responsiveness should be 10 stars! Liz was always willing to do whatever it took to immediately show me properties I was interested in seeing. She skillfully and professionally handled negotiating a perfect home in our price range for our family. We are very grateful to her. "
- Terri Diane
" Liz was awesome to work with. She went above and beyond anything we would have asked from a realtor, from dealing with the selling agents, to handling the inspectors and contractors that were needed to complete our purchase. Liz spent the time to really get to know us and what we were looking for. She exceeded our, already high, expectations. We will be recommending Liz to any of our family or friends that are looking to buy or sell their homes. If you are looking for a genuine person as your realtor, choose Liz. Thank you Liz! "
- Dan and Martha C.
" "A very hard working smart and energetic agent. I could not have been more pleased with her hard work, dedication, and professionalism. Highly recommended!!"ldsporty16501 South Pacific Sunset Beach "
- Lawrency Sporty
Previous
Next